When Vehicle Acquisition Network was first introduced in 2014, the original platform was designed primarily around the ability to search vehicles listed by private sellers and basic levels of automation for contacting sellers. But that was more than 5 years ago and as more and more dealers have embraced the tool, naturally, the need for more robust capabilities has ensued.
In the spirit of our commitment to provide the best communication tools and methods to assist our Dealer Partners in acquiring pre-owned inventory direct from private sellers and be more profitable over the long term, we are excited to announce the rollout of our second-generation platform - VAN 2.0.
In 2.0, the new interface features four main tools:
Inventory
Communication
To Do
Calendar
Inventory - Enhanced Search and Filtering
The Inventory tool expands on the search capabilities from the legacy platform by providing a fully customizable view of listings that can be filtered and sorted using custom fields and columns. In fact, in the video featured in this post, you get a preview of how the different data points that are now available make searching, filtering, and sorting practically limited only by your own imagination.
With the new search and filtering capabilities, users are able to more swiftly hone in on vehicle listings based on more specific criteria they need to pinpoint the vehicles they want and the status of communication with the sellers. This helps save time and be more efficient within the process.
---
Last month during our VAN University Best Practices and Training Webinar, we showcased the new Inventory tool in great detail, providing several key examples of how to utilize the custom fields for filtering and sorting vehicle listings. During the webinar, you also get a glimpse of other new features such as quick links to that original listings, and the ability to change communication status.
To view the complete webinar recording, simply register with VAN University in the Learning Center. Upon doing so, you will receive a link to the VAN University playlist where you can view this full webinar and all previously recorded webinars. Each webinar has been edited from the original recording to speed up the viewing process.
As Learning and Development Director Mark Curcio pointed out, "Our search results page and vehicle details page have never had this much flexibility and detail to drill down into specific opportunities for each individual situation. The new custom fields filtering capabilities have been developed in collaboration with many of our beta testing dealers."
The new fields," he says, "represent real life situations that our dealers face everyday. We will continue to develop and refine this product during the rollout and migration with our dealership partners."
About VAN University
VAN University is a free training and educational webinar program for dealers and buyers interested in a long-term profitability in the used car business. It is available in the VAN Learning Center.
The webinars concentrate on best practices and training tips for acquiring used vehicles from private party sellers. Each webinar is recorded and then made available to those who are registered. Registered attendees may also participate in the live webinars.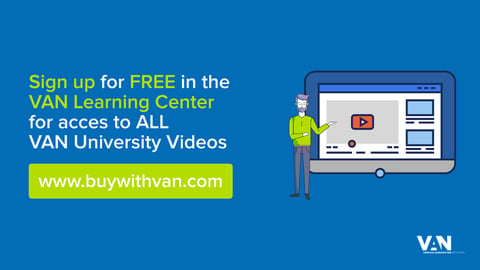 Follow this link to learn more and to sign up today!
Follow this link to view previews of all previous VAN University webinars.